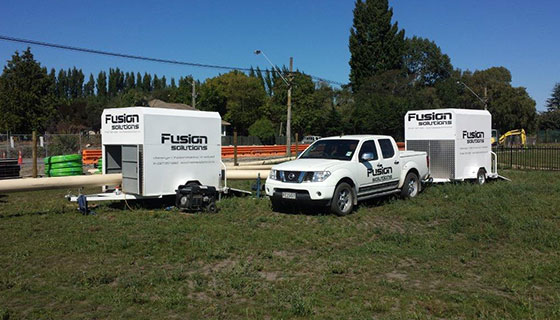 Fusion Solutions are dedicated to providing you with the very best in polyethylene pipe welding products & services.
Director Daniel Hodder has over 15 years experience working with polyethylene pipes and polyethylene pipe welding technology up to 2000mm in diameter.
Daniel is considered a specialist in the pipe welding process due to his extensive daily involvement with some of Christchurch's leading civil construction companies, working on major infrastructure projects following the Christchurch earthquakes in 2011. Fusion Solutions have undertaken a range of challenging and difficult repair work invloving leaking pressure pipes and instigating a quality, proven solution which resulted in major cost savings for one of our clients.

Specialist In Polyethylene Pipe Welding
Our ability to plan methodologies and design, develop & implement solutions for time critical projects is second to none, we stand by the quality and reliability of our butt fusion welding and polyethylene pipe joins. Our machinery and technology exceed SCIRT requirements and Daniel is not only a SCIRT approved welder but has also been selected as an assessor for the SCIRT PE welding group.